Membership Fee
The club membership fee will not increase for 2018

The Club membership fee is only $14.00 USD for one year. All memberships will run from the day of issuance. Most of the other Clubs' fees run from January to December or start in September each year. Some Clubs require you to rejoin even after a couple of months of membership benefits. For example if you join in July and the new membership term starts in October you must renew in October. So are you getting a full year of membership benefits?
By joining the M1CC you get a full 365 day's of actual membership, not months based on when you join like some other clubs.

None of the M1CC membership dues goes to payment of salaries or travel for M1CC board members. We are all volunteers putting in countless hours each day to serve you.

The M1CC, from time to time, has had give away contests that are free to enter. All you have to do is provide some form of assistance to the club. This can range from recruiting activities to helping run a rifle match and so much more...

We here at the M1CC want the club to reflect you and your interest. We love active participation from the members.

We have given away free membership extensions and autographed technical books from the likes as Scott Duff and others.

Are we the biggest club out there...No. But we continue to grow each and every day. We grow simply by word of mouth from our satisfied membership.





Photo of a M1CC members CMP rifle



CLUB NEWS




UPDATE:
February 2018

The M1 Collectors Club sponsors several Facebook Pages and our most popular is the M1 Garand Enthusiast Group. Please stop by and join today.

https://www.facebook.com/groups/2245285688/


GENERAL INFORMATION:


The M1 Collectors Club will accept payments for credit cards only at the Civilian Marksmanship Program retail stores only. When joining at the CMP stores please fill out every block of requested information. Visa, Mastercard and Discover are accepted forms of payment.
FEE NOTICE:
The M1 Collectors Club will assess a $25.00 fee for any check payment returned due to Non
Sufficient
Funds (NSF).
MEMBERSHIP NOTICE:
On some occasions new members have entered wrong or invalid credit card information. The club has attempted to charge the membership fee
agreed
to when joining at the Civilian Marksmanship Program.
When a rifle or other restrictive products were purchased a statement was signed indicating the purchaser is a member of an affiliated club. The M1 Collectors Club has had to waste valuable
resources
attempting to collect payments.
The M1CC will contact the CMP and advise that the member failed to make the required payment. This could result in additional action by the CMP.
Please take the time to visit the M1 Collectors Club on the Battle Tested forum.
OLD NEWS!!!
March 28, 2011:
Just a quick note about the success of the M1 rifle for vets donation program. Through out last year the club members and friends donated enough parts for the club to build and donate 5 beautiful M1 Garands to the M1 for vet's program.

The rifles were expertly rebuilt and refinished by Shuffs Parkerizing in Michigan. Our thanks goes out to those who donated the parts, and to Tim and Sean and others at Shuffs Parkerizing for their assistance with this project.


The 5th rifle donation will be presented to a much deserving vet in Florida very soon. Please check back and see pictures of the donation.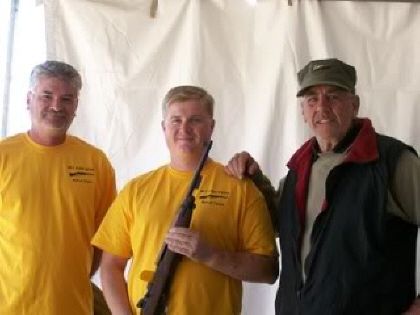 M1 For Vets Program. Photo Credit M1 For Vets JJ Oshea
New members can join the M1 Collectors Club when visiting the Civilian Marksmanship Program stores in both Ohio (CMP North) and Alabama (CMP South)
Historical News.
M1 for Vets

As many of you know the club sponsored a M1 for Vets rifle build drive several months ago. The response was simply overwhelming to say the least. At the conclusion of the drive we we able to have 5 complete M1 Garand rifles to donate to this fine cause.
The rifles are simply perfect! Each has been completely rebuilt and parkerized by Shuffs Parkerizing. Tim is a Charter Founding Member of the club and he donated his time to make this happen.
Please take the time to visit the M1 for Vets Program website and see if you can help!
A special heartfelt thanks goes out to JJ and all the crew at the M1 for vets Program for all they do to help this nations fine service men and women.
The club wishes also to express how much your donations of parts, cash, ammunition, accessories and other associated equipment has meant to us. Without you this program would not have happened.
On behalf of the M1CC Board of Directors and myself.
THANKS!